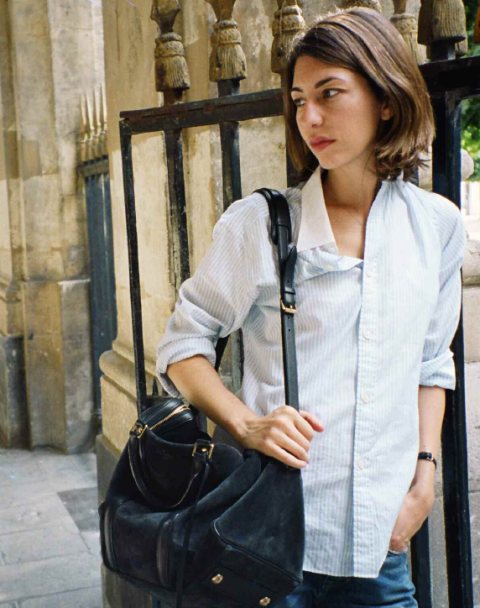 As my obsession for all things French steadily grows (and showing no signs of abating), so does my interest in the concept of the
French Wardrobe
- the notion that you can base your entire wardrobe on a skeleton of 4-5 (usually high quality) key pieces. In the recent months, I've found this idea especially appealing namely due to the alarming prospect of having to fit my vast array of clothes into my matchbox studio in Paris. Long gone are the days of envisioning a wardrobe worthy of a place in UK Elle's monthly feature Closet Confidential...
Although at the tender age of 20 my style is constantly evolving, I definitely have a uniform that I can always fall back on which consists of good quality basics - a pair of Acne jeans, a Zara leather blazer and my French Sole ballet flats for day and a black See by Chloe dress or D
ay Birger et Mikkelsen blouse
for evening. It's fair to say that I wear a variation of these outfits seventy five percent of the time in place of the more frivolous, 'on-trend' pieces in my wardrobe. Although this at first seems like a boring approach to fashion, the less-is-more approach to dressing is ultimately far more satisfying. After all, I would much rather by one more expensive, classic item that I really love and can wear in a multitude of ways in place of the latest highly covetable Balmain jacket or It bag.
When I think of women whose style I admire - Coco Chanel, Sofia Coppola, Jane Birkin, Emanuelle Alt et al - they all embrace a distinct uniform without sacrificing the covetable nature of their style.
See my 5 autumn/winter essentials on my previous post
here
. And my edit if money were no object...
1. Chanel 2.55 or Sofia Coppola for Louis Vuitton leather duffle bag
2. Chanel two tone ballet flats
3. Isabel Marant Bator Coat
4. Repossi yellow gold maure ring
5. Maison Margiela or Helmut Lang tee shirts